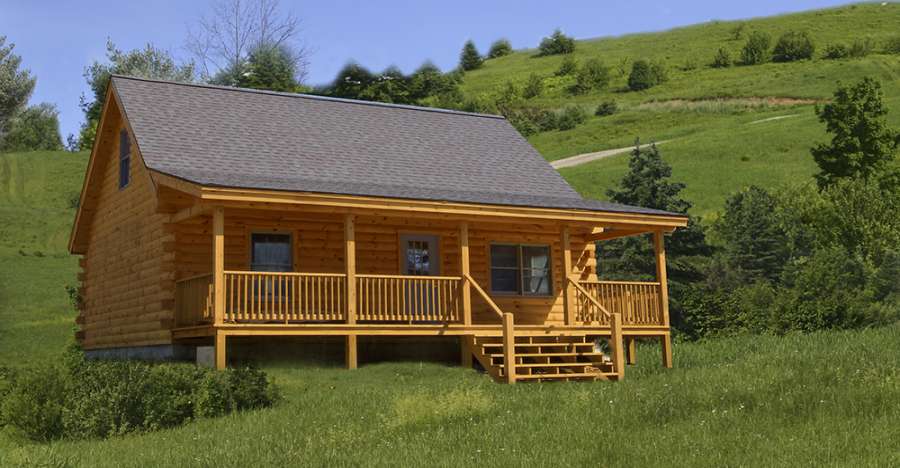 This marvelous Woodland log home is designed by Coventry Log Homes. They are a building company from New Hampshire specialized in construction of log houses. It's a family owned business, operated by Jim Elliot and his sons Jeff and Mark. The company had been quite successful during the last couple of decades. They offer over sixty different models of log structures. They also design garages, home additions, sheds and so on.
All of their designs are presented by virtual tour on their website, displaying the mill where logs are processed. You can check out their different log homes plans and the whole process of construction.
The Woodland log house is simple but attractive. This log home is the most popular in their Cabin series. This house is perfect for a weekend getaway or as a small home. It has 1140 square feet with two bedrooms and one bathroom. There is additional loft which can be used as an extra space like a guestroom, office area or a lounge area. This house's sleeping arrangement fits for up to six people or more. The kitchen layout is tailor made, depending on the need of the client. The living room is spacious and the wood walls add warmth and coziness to the space.  
The Woodland design model has a sweet patio incorporated in the package of the house. It's a great advantage of the home, to have a place where you can relax on the lounging chair with a coffee. This log house is universal regarding to the environment and it will look good in any surrounding, so you can set it up wherever you like.   
Log homes are great choice for a house in the country. They are energy efficient because of the natural ability of the logs to maintain the temperature. And also they are beneficial for our health. It turns out that the logs naturally filter out the toxins from the air, so they act as a purifier and provide a healthier air inside the house.