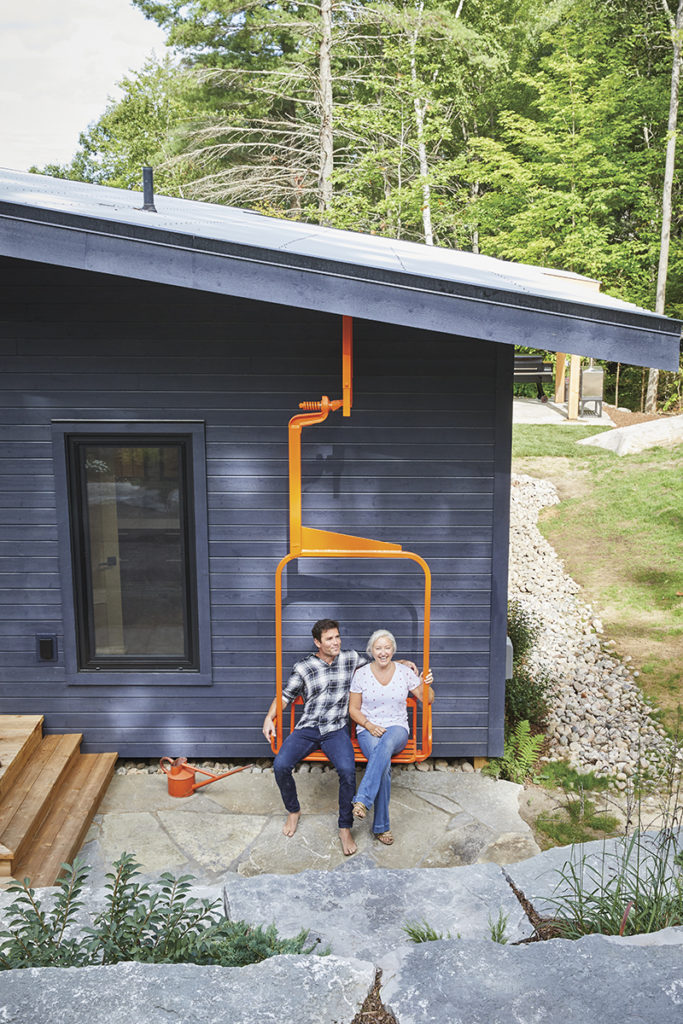 "We'd rather cut our hands off than drive through traffic up to the cottage." This is what this couple would say to each other when the subject of purchase came up "We're not cottage people," they'd say. "We don't have the time." Yannick usually has 12 hour workdays on the set of CBC's Murdoch Mysteries, while Shantelle spends most of her time writing a parenting book. All of this changed one evening when they stayed at a friend's place on Chandos Lake, Ontario. "Every night at dinnertime they had this beautiful sunset," says Yannick. "That was it." After this the couple bought a lot from a nearby cottager and as sudden as that they became cottage people.
After buying the land the couple set out to create the perfect cottage. Their ethos: green, cheerful and definitely Canadian-made. "We didn't want it to be so big that it would be a nightmare to maintain," says Yannick. He draw the plans for a 2 bedroom and 2 bathroom cottage and hired the professionals at Beaver Homes and Cottages to develop a custom-made cottage package. Another reason why they went small is because "This way, we can only host one couple at a time," says Shantelle. "We want this to be our quiet place." Hydronic radiant heated floors, giant windows and ceiling fans create a sense of luxury. The kitchen was focused on function "There's a pull-out spice rack on one side of the cooktop and a concealed knife block and utensil storage on the other," says Shantelle. "Everything is exactly where we want it to be."
The cottage is mainly designed to be a place for fun. Exhibit A: the amazing looking ski lift swinging outside the back door, a demonstration of the family's passion for skiing. "We wanted one from 1969, the year we were born," says Shantelle. Exhibit B: the cedar made boat shed that doubles as a drink stand."It's from the Shedman," Shantelle explains. "You design it online, then their designer verifies it. They built it on site start to finish, in one day."
Inside, even the trip around the doors has a story to tell. It was made from birch trees taken down on the property. During the construction the crew sent the couple pictures. "Any construction project done remotely is going to involve some mistakes," he says. "Thank God we have smartphones now, so we could catch and rectify them."
The couple bought a local marina at the end of 2018.  Shantelle is going to be running it this summer. "Yannick and I met when I was scooping ice cream at Baskin Robbins," Shantelle says. "So we're throwing it way back." The marina is a rescue mission – it needs to be overhauled and renoveated before opening. The investment is equal parts sentimental and financial. "We wanted to be part of the community," says Yannick. "We've been spending every summer in Toronto for the past decade, and we haven't enjoyed the best part of living there: proximity to the natural beauty up north. Being by the water has peeled years away from my psyche. I feel like a kid when I'm at the lake."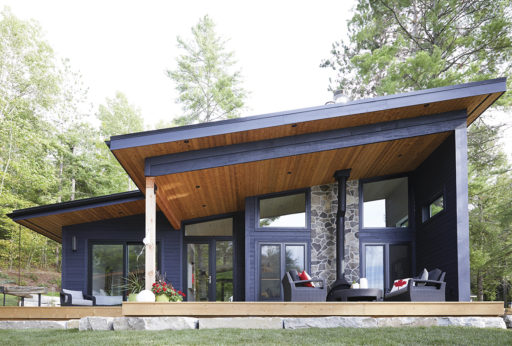 "The exterior was supposed to be grey, almost black, but it looks blue," says Shantelle. "We debate daily whether or not to paint it."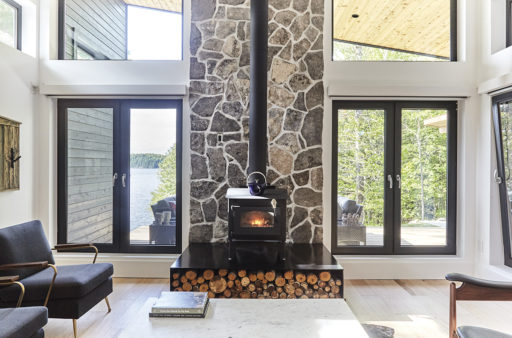 On the repurposed kitchen cabinet you can see a Biltmore 5X Cowboy hat. Yannick used this hat in one of his older roles. There's also a turn of the century beaver top hat.
Yannick designed this amazing fireplace with the convenient build it wood storage with help from his stepfather-in-law, a large-scale steel estimator.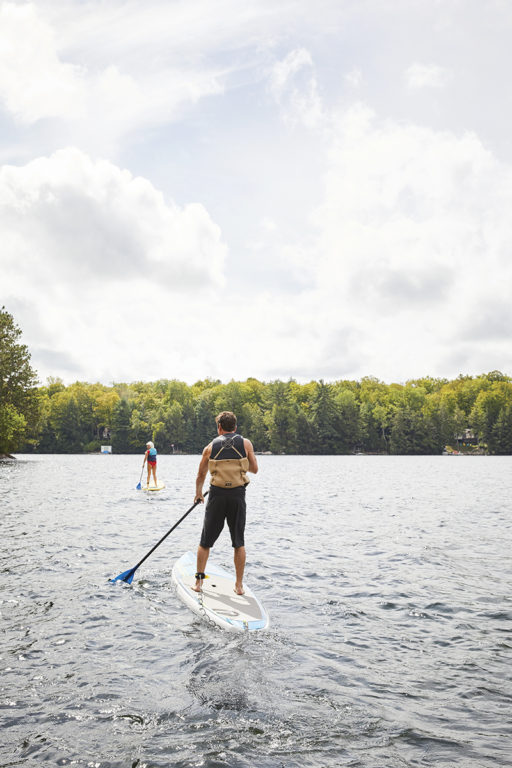 The neighbors like being around Detective Murdoch "He's so gung- ho," says Shantelle, "they call him Cottage Man."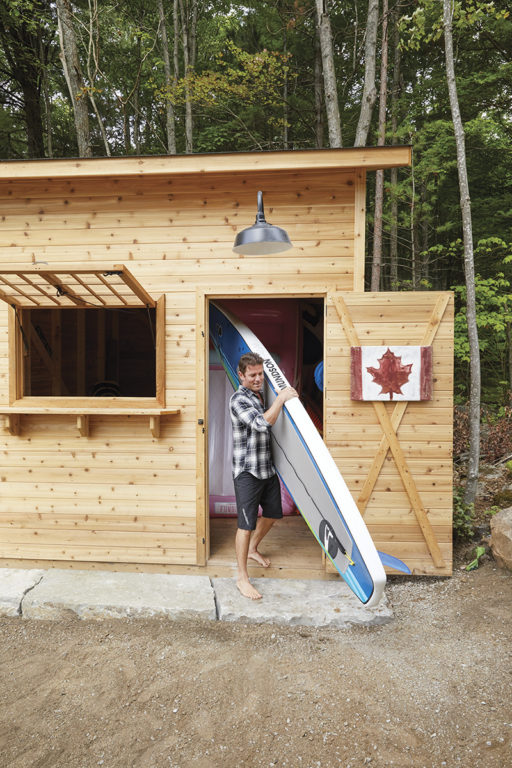 The couple can spend most of their days at the lake. "I never realized that fishing off the end of the dock could be such a satisfying way to start my day," Yannick says. "And I didn't think that, at 49, I'd learn to wakeboard!" says Shantelle.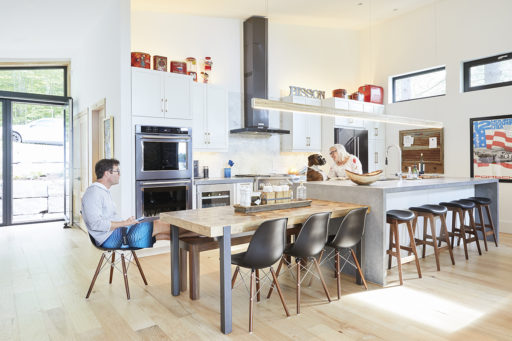 Instead of placing the kitchen sink on the wall, the couple decided to place it in the island. "I knew we'd cook most of our meals outside, and that any time in the kitchen would be spent cleaning up," says Shantelle. "I didn't want my back to the party."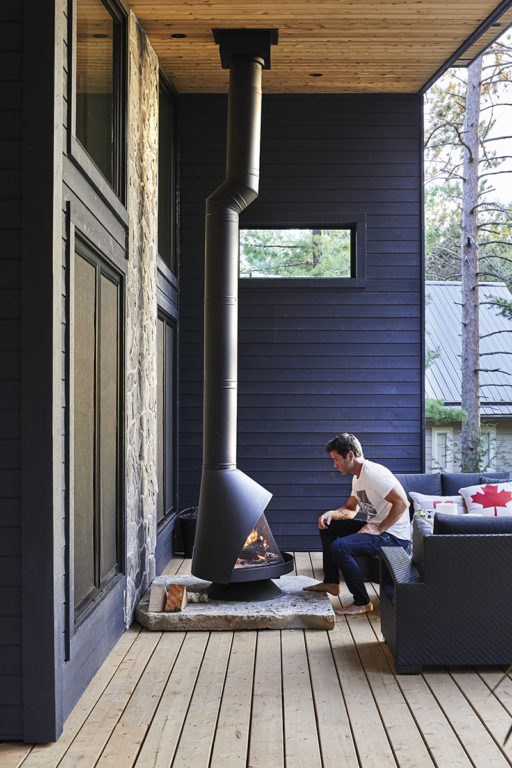 Yannick, being a huge fan of mid-century modern design was very excited to have a space where he could install a Malm outdoor fireplace. "We love it for the shoulder seasons and for rainy nights when you can't sit around the bonfire down at the lake," says Shantelle.