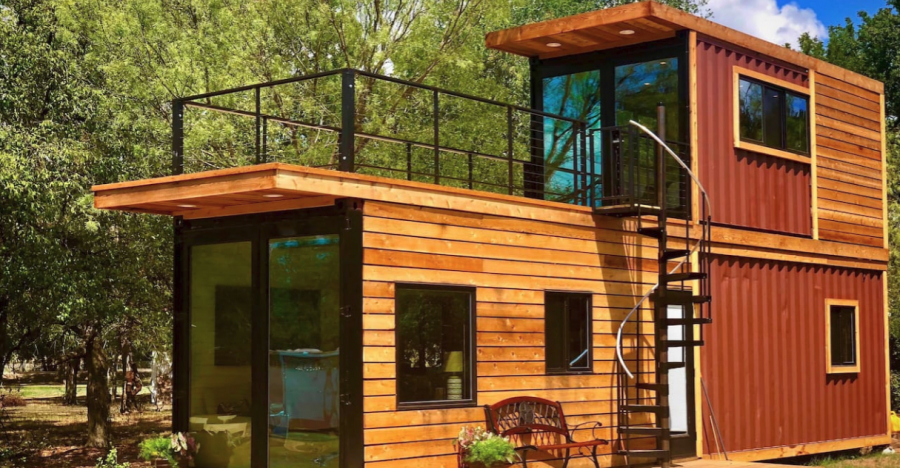 This container home is located in Waco, Texas in a neighborhood close to Craft Village and the airport in Waco too. It is also available to rent through Airbnb. The shipping container house is an interesting alternative way of living arrangement. The greatest benefit of these shipping container homes is that you can assemble them in a modular way and create any type of design you prefer.  
You can place it on the ground in one level, or you can create more levels in height. Cargo Home is the company from Texas that designs these attractive cargo containers. When the containers are old and deteriorated, they get replaced by newer cargo containers. This home is made of a 20 feet shipping container. It offers a rooftop terrace. There are glass doors providing more light to the living space. The floor is narrow in order to fit in the area of the shipping container. 
The space is very practically planned and fully used. There is a small kitchenette next to the living area with all the necessary equipment. There are lots of shelves on the walls in the kitchen for storage of all the dishes and glasses. Kitchen also has a small four sits dining table, so the space is perfectly planned and arranged. There is a bathroom with a shower, mirror with a cabinet and a toilet. This container home holds two bedrooms, one on the ground floor and one on the upper floor. There is also a spiral staircase which leads to the terrace next to the upper floor bedroom. The rooftop patio is a perfect place to drink coffee and enjoy the sun, as well as take pleasure in the sunset on warm romantic evenings. This is very original and creative design with a price of $71,000 and up, by Cargo Home.