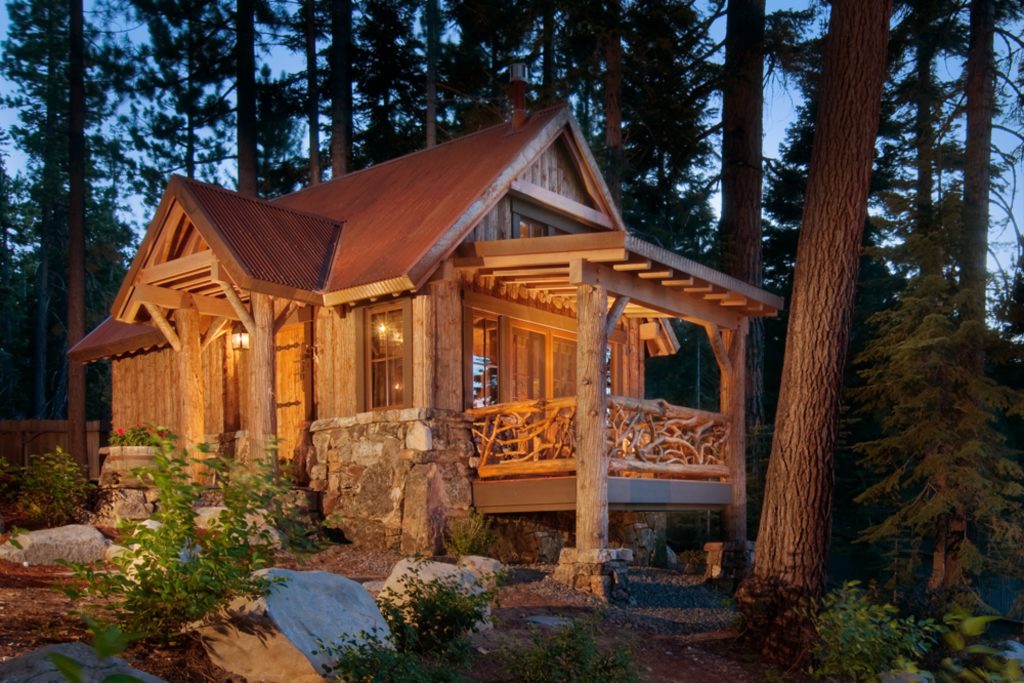 This lakefront log cabin is very original building project, which was created from previously existing wood cabin built from 1960. It is located in Lake Tahoe, California. The entire design was remodeled, except of the living room which kept its original appearance. The designer of the cabin was inspiredfrom classic Tahoe architecture and the camps of Adirondack Moutain. It is because the owner of this home wanted to get the feeling as if the Tahoe cabin had been there for long.  The former garage was reconstructed into a guests' bunk. This cabin building was presented in the Gentry Design Magazine, Spring 2011 and in Cabin Life Magazine, February 2012.
When designing eco-friendly cabin building project, smart thing to do is go local. Building materials should be locally made in order to avoid the transportation costs. That way, local businesses are supported. 
In case of cabin building renovation, you should reuse all the materials left from the demolition process or from other previous building projects. Also, you should collect rainwater for garden use or cleaning during renovation.
It is very important to pick efficient lighting. By installing smart skylights, you can reduce the need for electrical lighting. Skylights provide ventilation in the cabin, by opening the skylight with sensors. Another opportunity to save money during the renovation is to change the old light bulbs with more energy efficient options. Also you can consider installing solar panels which are very economic and energy efficient.  Windows should be changed as well with more energy-efficient windows. Even though they are a little bit expensive, they will save you money for a long term.
This log cabin perfectly fits the nature surrounding, by enabling the lake and the forest to increase its romantic and stunning appearance. Other than its look, the cabin is very practical option for vacation, break or short stay.