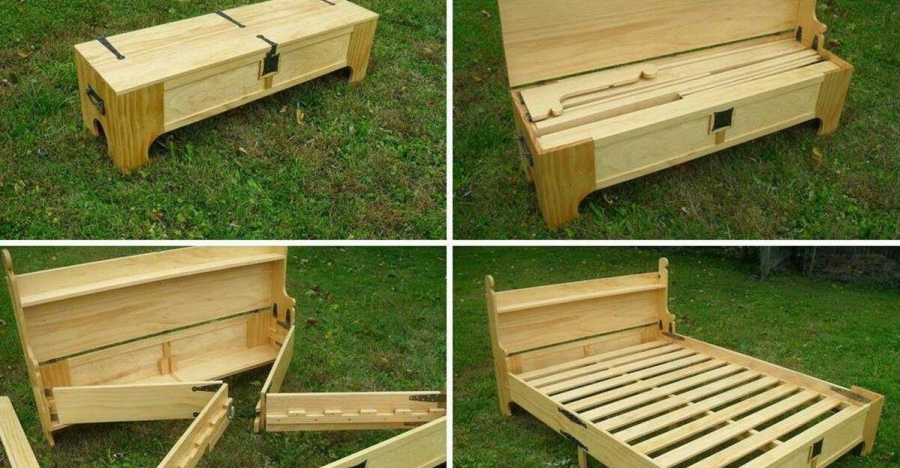 This unique idea was first created by Robert MacPherson. He designed the bed box for the annual American camping event, the largest annual gathering with more than 10,000 re-enactors from different countries. This event is intended for campers to design complex campsites, so the bed boxes were great idea and convenient for transport.
The bed box is a wooden box and when you open it, it serves as a bed. It is very practical solution, easy to transport and use. The bed in a box is a great idea that saves space. When you need a bed, you open the box and put an air mattress on the wooden bed. But when you don't sleep, you just fold it up and store it away. That way the bed doesn't take any space, so the bed in a box is a perfect solution for saving space. 
For this project you need select pine and panels from birch plywood. For the finish, semi-gloss polyurethane is used. The bed in a box has 16 gauge steel for each piece, blue-grey oxide finish and polyurethane in order to constrain corrosion. MacPherson applied screws for easier construction.
The wooden furniture makes this project with a timeless quality. It has a lifetime usage. If it is properly treated, it can be passed down to generations. This design is original because it involves authentic building materials, like wood. Wood is very quality material and it is kept in its natural form. Wooden furniture is always a smart idea. Whether it is used for large or small pieces, quality is the same. It usually is used for tables, benches, chairs, cupboards, bed and so on. Definitely this original, inspiring idea for furniture, bed in a box is something you will want to try to build for yourself.